Why become a Padi Pro?
Why Koh Lanta, Thailand?
Why with Lisa?
What are the options?
Best period of the year for diving (if you have a choice) around Koh Lanta is between the 15th of October and the 20th of December and from the 20th of February until the end of April, because it is not so hot here then (oke, we do sometimes get a short rain shower and a little wind) and the island is not as busy as it is around Christmas and New Year. The holiday periods in Europe is a more expensive period, because the island is very fully booked around this time of the year.Best chances for manta's and whale sharks, while diving is from November until end of March.
The Andaman Sea side of Thailand has rainy season from May until the end of September. This means that it could be fairly wet here then, very quiet, not many diving trips and not many restaurants and resorts are open on Koh Lanta. Koh Lanta's marine park (Koh Ha, Hin Daeng and Koh Rok) is also closed for diving and snorkeling from the 15th of May until the 15th of October.
The best way to make sure you are booking your dive resort in the area of Koh Lanta, where the Padi dive center of Andaman Dive Adventure Lanta is located, is to send us an email on: info@andamandiveadventure.com. We can also arrange your transfer from Phuket or Krabi airport. Click here for details how to get to Koh Lanta
It is closest by to stay on Klong Dao beach or Pra Ae (Longbeach)and those are the nicest areas to stay on Koh Lanta, anyways. We are located in Lanta Island Resort and can book you into this and other resorts of our friends.
Become one of our friends on Facebook or Twitter and tell all your friends how great your diving was on Koh Lanta with Andaman Dive Adventure.
Keep an online logbook, find the fish names you were looking for online and make new diving buddies online, with Scuba Earth and find ADA on Scuba Earth as well.
You can even have an online Padi manual or do your dive theory of your diving course online with Padi's Elearning.
When you get certified you can ask for an Ecard, to show to all your friends you are a diver now. Travel light & keep your memories somewhere safe.
Or… if you are doing things the old fashioned method:
email us now on: info@andamandiveadventure.com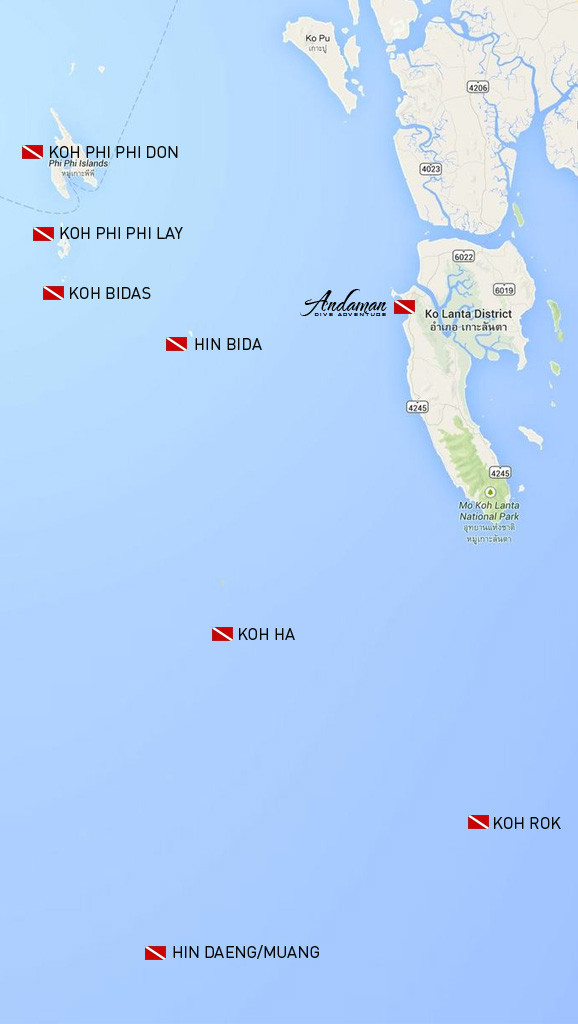 From Koh Lanta Andaman Dive Adventure dives and snorkels on these dive sites:
+ Koh Ha
+ Koh Bidas
+ Koh Phi Phi
+ Koh Yung
+ Koh Ma
+ Hin Daeng and Hin Muang
+ Koh Rok
+ Anemone Reef, Shark Point and KC Wreck
For Padi open water diver students or starting divers Koh Ha, Koh Bidas and Koh Phi Phi are the best dive sites to dive, because of their easier dive conditions (currents, tides, depth and visibility). These dive sites are though also interesting for more experienced divers. At every diving depth you can encounter different fish life. Koh Ha is very good for macro photography, but also has the most frequent whale shark encounters, beautiful soft corals, the Cathedral Cavern and best visibility.
Koh Bidas and Koh Phi Phi has best chances to see leopard sharks and black tip sharks, beautiful gorgonian sea fans and has bigger schools of fish, but less visibility and more divers.
Hin Daeng and Hin Muang have the best chances to see manta's, have big schools of fish, amazing soft corals and dive depth. Anemone Reef and Shark Point have beautiful soft corals and anemone's, leopard sharks and macro opportunities. Turtles are easiest to see around Koh Ha, Koh Bidas, Koh Phi Phi and Koh Rok.